Magic Counter
WARNING: This page contains SPOILERS for Final Fantasy VII. (Actually, it really doesn't, but this is a part of the standard format, and I'm too lazy to change it. <_<)
Is there another way to get Magic Counter other than the chocobo races?
Yes, but you will not be able to get it until disc three. It is on the second screen of the left-down path in the crater. Here's a screenshot:
NOTE: This shot is taken from the PC version. The materia is nowhere near that visible in the Playstation version of the game. Here's a screenshot from the Playstation version: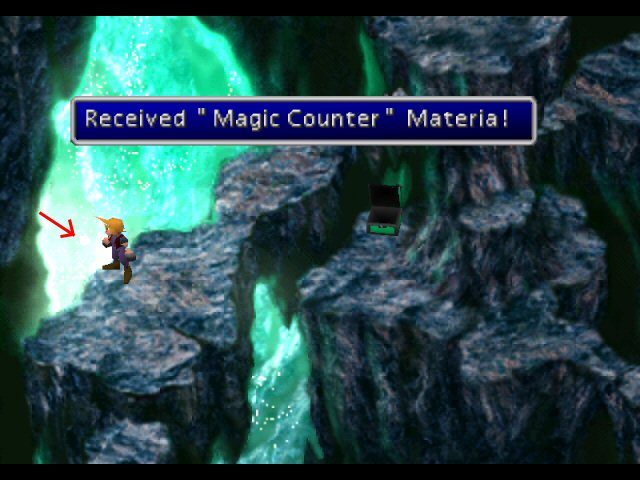 You should be able to get it by walking straight up from the ledge directly below Cloud in the picture and pressing confirm when you hit the ledge. If not, just run up and down that ledge where he's standing and press your confirm button a lot. You should get it eventually.
Thanks to shadow666 for providing me with a screenshot for this. No more half-assed directions will be necessary when this comes up on the board now. >_> Also thanks to Shadowheart for the Playstation screenshot.